This time of year in New Zealand, with the heat and the sprinkling of public holidays and the lazy stretched out sunny evenings giving way to spontaneous happenings, it's good to have a few snacky options in your brain should something arise that you want to make food for. I mean, most people are happy with a few bags of chips. But if you want to provide a little something extra now or anytime of year, and you're into cooking anyway (I presume that's why you're here in the first place, although I unsecretly and vainly dream of the day that people who don't even care about cooking read this because it's just that damn good) then I suggest this dip. Its credentials are near-flawless: it's fast. It's very cheap. It's vegan. It tastes so, so good. And it has a flashy name. Tarator. Now that is something.
Being the contrary person I am, I kinda hate all this heat - which makes me sweaty and frustrated - and long for the biting cold of winter. Which makes me feel alert and snuggly. Like a cat! But it's here, and how, particularly in Wellington - today was so punishingly hot I actually started crying a little in the street without really realising it. It was just discombobulatingly, dizzyingly hot. Which was great because then I had to go to the gym to buy a membership from the stunning and charming person who I've been consulting with while I'm there. Yes: gym membership. No-one is more surprised than me that I've been really enjoying myself. My arms are getting bufty, I have more energy, and most of all - for that one hour that I'm lifting weights or kicking into the air - I am not thinking. This is crucial. I am always overthinking things. I'm overthinking right now. But not while I'm at the gym. So even though it's a significant expense in our lives, I can, and am happy to, make some space for it in the budget.
So: tarator. It sounds a lot more exciting than it looks. And also it sounds a lot more exciting than the list of ingredients looks. The bulk of this saucy dip, or dippy sauce, is in fact just bread and water. There are also walnuts, which is good, because they taste wonderful but also allow you to explain this as being a Turkish walnut dip, as opposed to blended up bread and water. The mint leaves are also important. Not because they necessarily add to the flavour - although their cooling pep helps lift the richness - but because of the inherent social code that exists which means you don't have to explain to your guests that this substance is edible. They gaze upon your table of snacks and without even realising it, they think "Aha! That sprinkling of greenery is letting me know that this is not just suspiciously formless brown paste, but in fact imminent deliciousness in which to insert my crisped bread or sliced vegetable of choice!" (See: always overthinking. Even garnish.)
Tarator
This recipe is adapted from Hugh Fearnley-Whittingstall's rather lovely book River Cottage Veg Everyday. I upped the bread a little and lowered the oil, just to make it a little more affordable. Use what you like, as long as it's a little thick-cut and doesn't have grains in it - I used Freya's light rye, hence the colour of the finished product. It's very forgiving, so add more dampened bread, oil, or lemon juice as you need till it tastes right.
70-100g walnuts
1 large garlic clove
4 slices decent-ish, non-grainy white or light rye bread, either fresh or pre-sliced from a packet.
5 tablespoons olive oil, or more to taste
1/2 a lemon
Salt, to taste
Blitz the nuts and the garlic clove in a food processor until fairly finely ground. Run the slices of bread under cold water and squeeze out a little - it will feel weeeeird - then throw them in the food processor and blend to a thick, thick paste. Add the olive oil, the salt, and the juice of the lemon and continue to process, adding more oil or even a little water to thin it down a little if necessary. Taste for salt or lemon juice, then scrape into a serving bowl.
It's astonishingly, intriguingly rich - in that same plumply smooth way that pate is. It's intensely savoury and yet oddly light and creamy. It just tastes like good times, okay? I feel like it lends itself to being more than a dip - a sauce for pasta salad, for example - but for now, while this weather insists on being so infuriatingly pleasant, it's perfect just heaped into a bowl and speared with slices of cucumber and carrot.
Important-ish: Tim and I saw the
Les Miserables
movie with our friends
Kim
and
Brendan
last week. I've grown up with the original London cast recording ever since I used to dance around to Castle on a Cloud as a child, and have seen the musical several times, so was prepared to scrutinise it sharply. Well. A few details aside, (Russell Crowe, who was like,
fine,
but no Norm Lewis) Tim and pretty much adored it. If nothing else, we certainly had a lot of feelings about it. We analysed it all the way home. We then watched the 25th anniversary DVD. We then discussed it on and off for the entire following week. While no-one really is clamouring for the notes from our two-person roundtable, I will say this. If you hate musicals, nothing, least of all the bombastic and earnest Les Mis, will win you over. But it's so monumental and enormous and beautiful that it's pretty delightful to be sucked into it, to let those emotionally manipulative refrains draw hot tears from your eyes, and to daydream about wearing red coats with epaulettes.
Finally: our friends
Kate
and
Jason
are back from Europe after two months away! I was so heart-poundingly overexcited when Kate txted me on Saturday morning to ask if we wanted to come along to brunch that I ended up doing this: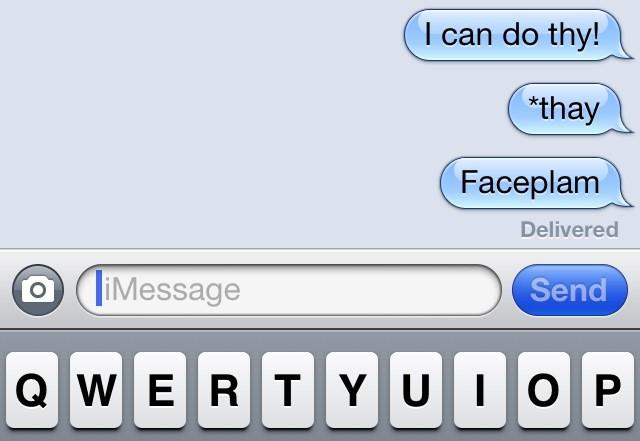 Says it all, I believe.
PS: Thanks for the super cool response to my new segment,
I Should Tell You!
I am nothing if not punt-taking but it's still always an utter relief when it doesn't fall over flat.
PSx2:
Hannah Hart of My Drunk Kitchen is coming to New Zealand
! This is So Important! (I love her, I thoroughly recommend her youtube channel if you're unfamiliar with her stuff.)
_____________________________________________________________________________
Title via: The titular song from the musical Hair. Hot damn I love musicals.
_____________________________________________________________________________
Music lately:
Tim and I have been playing the new Cat Power record Sun over, and over, and over. The songs are so new but feel like they're already worn in and familiar, like the softest flannel sheets. I love
Manhattan
.
All these epic musicals with convoluted storylines are naturally making me re-obsessed with
Chess.
Idina Menzel singing
Nobody's Side
is too, too much.
Even after watching it a squillion times, Frank Ocean singing
Bad Religion
live on Jimmy Fallon still makes my heart explode but also melt at the same time.
_____________________________________________________________________________
Next time: Might be another I Should Tell You! Dun dun dunnnn.