slow cooked beef cheeks with cinnamon and kumara
I have achieved a lot this week, which I'm very proud of, because - as I'll tell you soon as see you - I'm really only awake and functioning for around 90 minutes a day when I'm not at work. None of this changes the fact though, that I'm honestly a bit sad about one thing that I can't achieve my way out of, whether or not I'm awake or asleep or thriving or unthriving: Wednesday the cat has gone. Gone to live at the Cat's Protection League, so she will be a league-protected cat, but it's so sad to not have her stupid wee half-moustached face and crooked broken little tail around. What happened was, the flatmate who was catsitting her had to move out to be nearer to her job (which is also a major bummer since she's lovely) and couldn't keep her, and the rest of us remaining were unable to keep Wednesday so the only real solution was to send her off. If I was around more or was not the sole person responsible I'd adopt ten million cats but I'm just not at home enough to give a cat the attention it needs (and then entirely ignores) so...that's that.
However, having Wednesday around for just one happy month was wonderful, so let's cue a montage: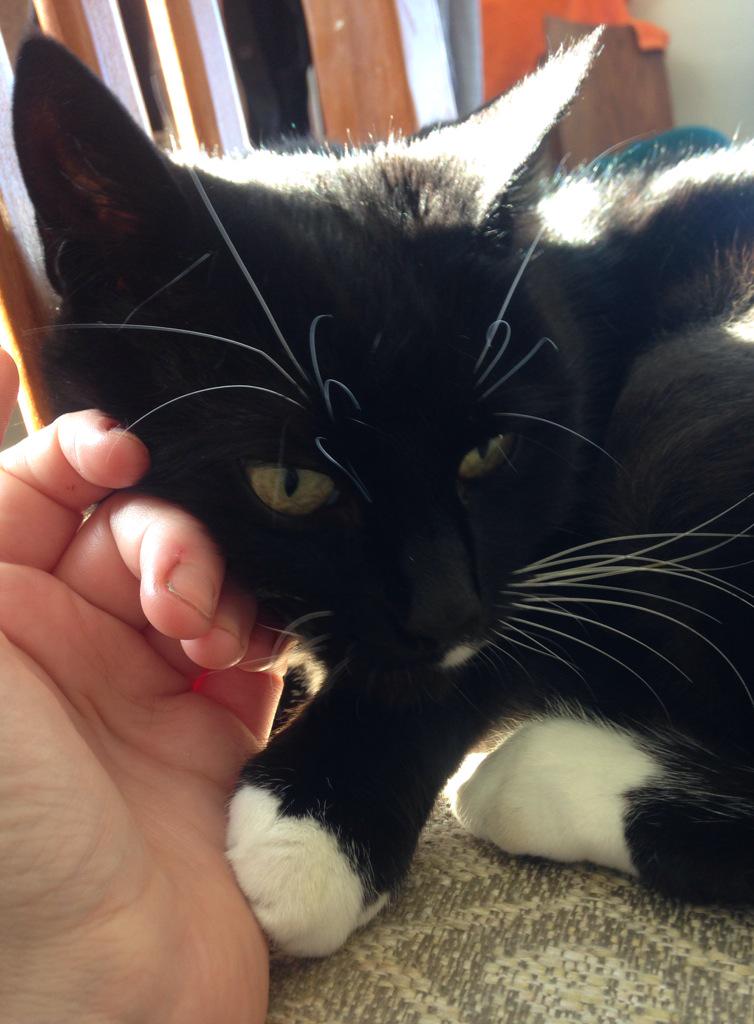 holding paws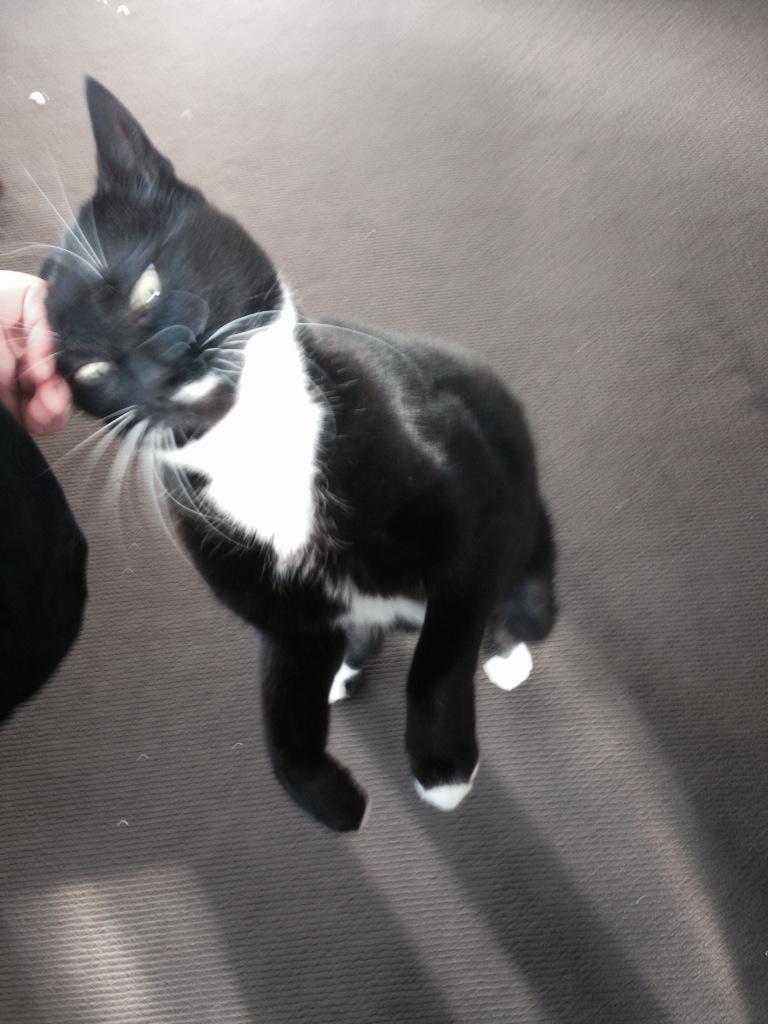 boop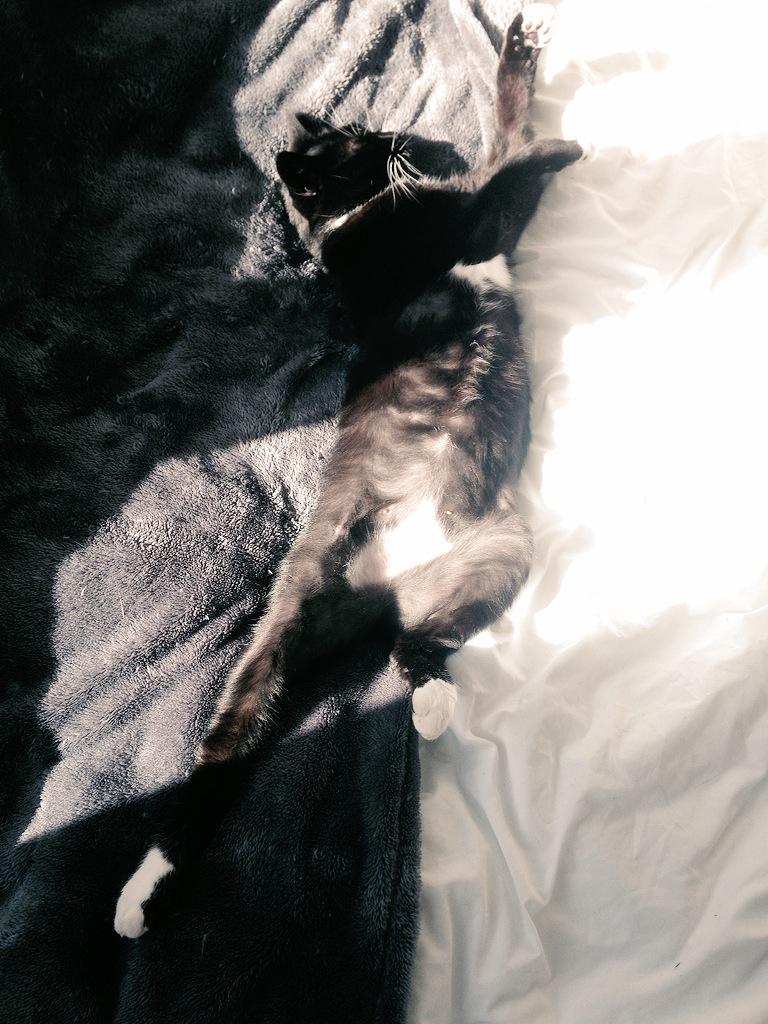 arabesque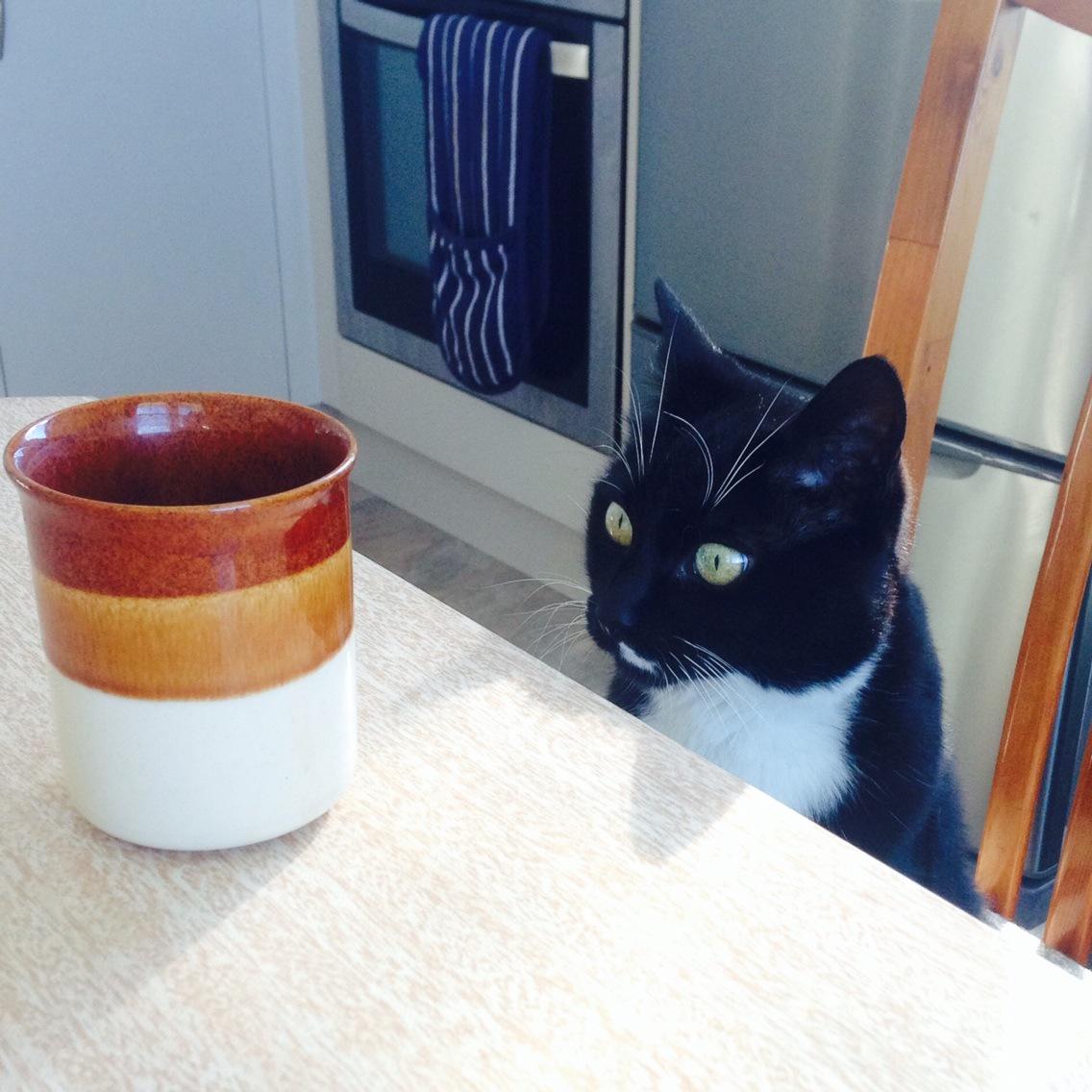 my favourite look: business cat
Better to have loved and lost than never to have had a cat at all, right? Again, I know this might sound all overwrought (and if there is a thing to be wrought, I'm first in line to do it overly) but Wednesday appeared just when I was reaching the zenith of my climb up Cat-Longing Mountain and the utter blanketing joy of suddenly having a soft little animal around was just just just so lovely.
Anyway! Life goes on and luckily there will be other cats out there for me and also I have dear friends close by who own animals of varying degrees of willingness to be snuggled, so yeah. This may sound all very stupid and self-indulgently whiny but do you even know how I feel about cats? I FEEL.
*Goodbye To You by Michelle Branch playing on a constant loop*
Speaking of things that are good to have in bed in the middle of this snappishly cold weather; I recently made my first proper slow-cooked casserole thing of the Winter (it's not even technically Winter yet but Wellington cares not for your seasonal timelines.) Whilst sleepily wandering around Moore Wilson one morning I saw that beef cheeks were incredibly well priced - like, $5! - and I grabbed some, surmising that the time had come for me to get back into cooking such things. I'd never cooked using beef cheeks before but figured there couldn't be much to it, and about this I was highly correct.
Seriously, the only stressful thing about cooking this is that you need a lot of time. But during that time the house smells so completely incredible, that you can zone out and come to and feel like you've wandered into some enchantingly bucolic French bistro when in fact you're just sitting in your Newtown kitchen playing idly on your phone while wearing tights that have holes in places that are, shall we say, not amenable to being public-facing, and a stained hoodie that you slept in and haven't changed out of yet. So yeah, it takes time, but look at it this way, this is a recipe that you can achieve things to: put it in the oven and then get on your laptop and write, or tidy your room, or do whatever it is that you ought to be doing, and then you are rewarded with a mouth-quiveringly good feed.
I based this recipe on a few things that I found online, purposefully going with a recipe that doesn't use any alcohol, despite how enticing the thought of braising this meat in Pedro Ximenez or a bottle of red wine was. On my current budget I just can't bring myself to the point of tipping a whole ton of wine into a pan, when I could be drinking it. It makes me feel all flinch-y. This recipe simply uses cinnamon - one of my very favourite scents and flavours - and stock, and lets the beef itself do the rest. Leaving any wine you might have to be poured straight into your mouth (or like, use a wine glass, you adorable heathen.)
slow-cooked beef cheeks with cinnamon
serves two to four people, depending on appetite and what is served with.
around 300g beef cheeks (or more, whatever)
butter
one onion
one good size orange kumara, or half a butternut squash
250ml beef stock (ideally from a carton, but use a cube if it's all you've got for sure)
two cinnamon sticks
Set your oven to 150 C/300F. Slice the onion into thin half-moons and dice the kumara roughly.
Heat an indescriminate amount of butter in a small frying pan (around a tablespoon is fine if you need someone to make this decision for you) and sear the beef cheeks on both sides, for around a minute each side, just to brown them. Once brown on both sides, remove from the pan and sit them in a medium-sized casserole or baking dish. Then, add a little more butter to the pan and gently fry the onion and kumara (you may need to do this in batches) until the onion is softened and the kumara is a little browned and crisped in places. Tip all this into the casserole dish on top of the beef. Finally, pour the beef stock into that same pan and allow it to come to the boil. Carefully pour this over the beef, onion and kumara, nestle the cinnamon sticks in amongst all that, cover with either a lid or tinfoil, and then place it in the oven. Leave for around three hours, and then serve, over rice or some kind of potato situation or simply with plenty of bread and butter.
It seems almost impossible that a method so simple that you're barely touching the food as you cook it, could taste so deeply delicious, but such is the joy of slow cooking. The meat was so tender I could literally slice into it with the edge of a spoon, and half-heartedly at that. There is a wonderful stickiness to this, from the gelatinously rich meat to the warmth of the cinnamon and the sweet, slightly scorched kumara. Actually I should mention now that beef cheeks have long been a very unfashionable cut of meat and are only really now coming into prominence - in the same way that lamb shanks did a few years back - but honestly they're so, so good and fulsomely rich in flavour that they practically deserve to become overpriced restaurant food. Also, it's all so arbitrary, right? I mean, rump steak is a fancy cut of beef but I mean, it's the rump. You're literally eating a cow's butt?
On that note, I had it pointed out to me by some rakish wag (my dazzling girlfriend in fact) that if you say "beef cheeks" out loud it's weirdly hilarious and uh, yeah, I agree. Beef cheeks! I don't know, but giggles ensue! Immature of me, yes, but in my defence, I am
very
immature.
More sensibly, you should know that the leftovers of this are quite incredible heated up and stirred through hot pasta - ideally pappardelle for that hearty ragu vibe, but all I had was linguine and the meat, shredded roughly, with the pasta absorbing the gelatinous stock and some extra butter that I threw in because I'm incapable of doing anything else, was sublime.
Despite living the catless life currently there is still SO much to look forward to: Pretty Little Liars, aka one of the most important TV shows in the Western canon; returns next week and so does the webseries of my heart, Carmilla. Also, next Monday morning (around 9.45am I believe?) I'll be on Radio New Zealand talking to Jesse Mulligan about food, which should be rad as. I love being on the radio! And wherever Wednesday is, I love her too and am glad I got to meet her at all.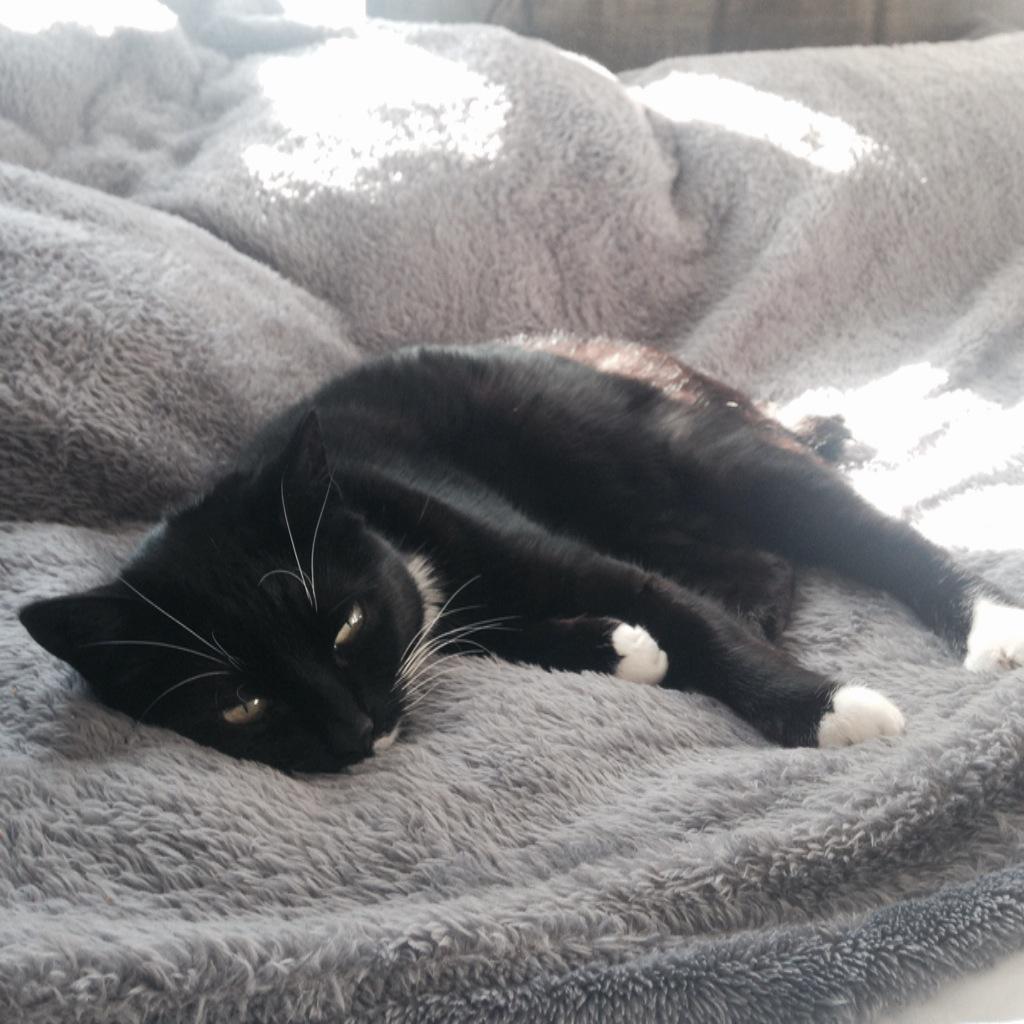 *Don't You Forget About Me by Simple Minds plays on loop* (ps oh man thanks for bearing with me, ya girl is maudlin)
_____________________________________________________________________
_____________________________________________________________________
music lately:
Walk Through The Fire,
from the musical episode Once More With Feeling from
Buffy The Vampire Slayer.
Yes. I am at the stage with my Buffy-watching where I got up to the musical episode. Verdict: oh I don't know, I think I want to/have to watch it like seventeen more times before I can properly calibrate my feelings on it (what I'm saying is I love it)
VCR,
The XX - their music just makes me feel all warm and safe, it's so dreamy and low-key. This is one of my very, very favourites of theirs.
_____________________________________________________________________
next time: I know it's freezing but I made some rum'n'raisin ice cream the other day and it was honestly the nicest thing I've tasted in forever. So I ate it all. In one go. But I'm going to make it again and let it hang around long enough to take photos of this time!